Fuelled by worms it's time to collect, connect and tunnel for treasure! Coming to Gamefound in 2024. Follow on Gamefound or join our newsletter to keep up to date!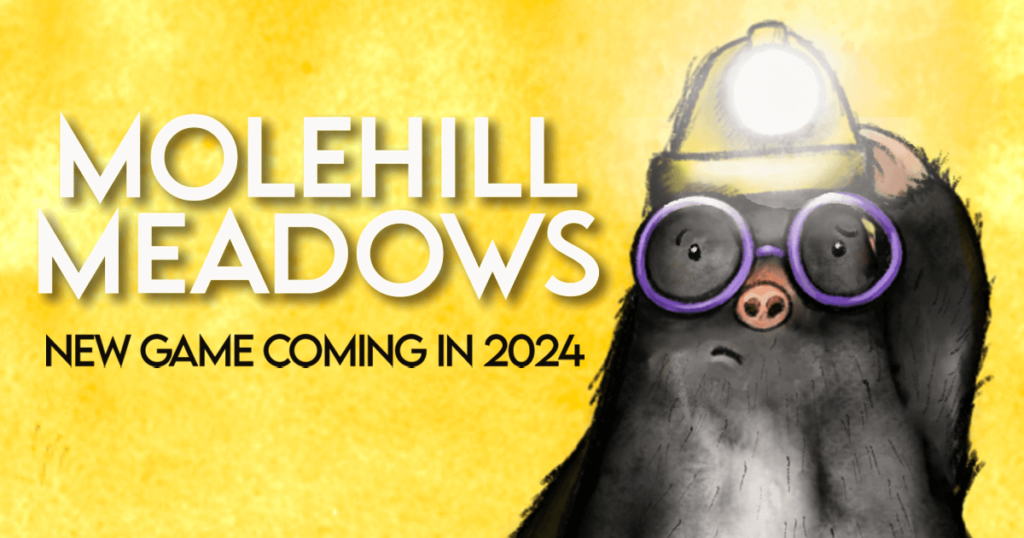 Move over Roll & Write games, it's time for a Mole and Write!
In Molehill Meadows you play as Mika the Mole, an intrepid adventurer with an affinity for shiny things, a hunger for juicy worms and an innate desire to dig. And dig you will by using polyomino shapes to strategically tunnel paths across the flower filled fields, ever expanding your molehill home whilst being careful not to compromise existing pathways.
Throughout your journey you will forage for worms, unearth hidden treasures, complete randomly chosen objectives and skillfully connect different sections of the map to earn valuable points. Not only will the delicious worms you collect along the way fill your belly but they also gain you unique powers, such as crafting your own customised tunnels, digging multiple times in a turn and even bending tunnel placement rules in your favour, with many satisfying combos waiting to be pulled off.
With simultaneous play and a player count that's only limited by the number of game sheets you have, Molehill Meadows will be tunnelling it''s way into your heart in no time.
So pop on Mika's extra strong glasses and embark on this delightful ever-changing journey through Molehill Meadows and prove your skills in crafting the ultimate tunnel network!
Designed by: Chris Priscott
Illustrated by: Clemency Bunn